Classification of environmental noise at the DataFest Africa 2022 Hackathon
Still buzzing about our first ever chance to participate in the DataFest Africa 2022 Hackathon.
Under this year's theme "Big Data, Little Data and everything in between " we were glad to provide noise data sets for participants to train a classification model that classifies noise audios into various categories and even more excited about partnering with Pollicy and Zindi Africa on making this challenge come to life. But before we go further you're probably wondering, why noise?
If you walk up to your local trading center, you're likely to be met with a loud fusion of different sounds. Some vendors trying to sell groceries to passersby, a truck reversing, a preacher with a loudspeaker, a herbal specialist going on about the advantages of their treatments. The closer you are to the city, the louder the area. Unlike air or water pollution, there's no immediate substantive evidence of the negative consequences the exposure to high levels of noise does to our psyche, nervous system, productivity levels and general way of life. Pollicy's Director of Programs, Gilbert Beyamba shares, "Noise pollution, like all other forms of pollution, is an emerging environmental health hazard in African cities, with potentially complex spatial and temporal patterns. This is further challenging due to the limited local data which is a barrier to the formulation and evaluation of patterns to reduce noise pollution."  This leaves concerned stakeholders such as city planners, engineers and policy makers with no point of reference. 
Here at Sunbird AI, we believe we could fill this gap in Uganda by developing AI-powered tools to remotely collect, test and monitor noise in order to empower enforcement institutions such as the Kampala Capital City Authority (KCCA) and the National Environment Management Authority (NEMA) with real time, accurate and contextualized data to regulate noise levels. We piloted this project in Entebbe city, installing 7 sensors across different locations.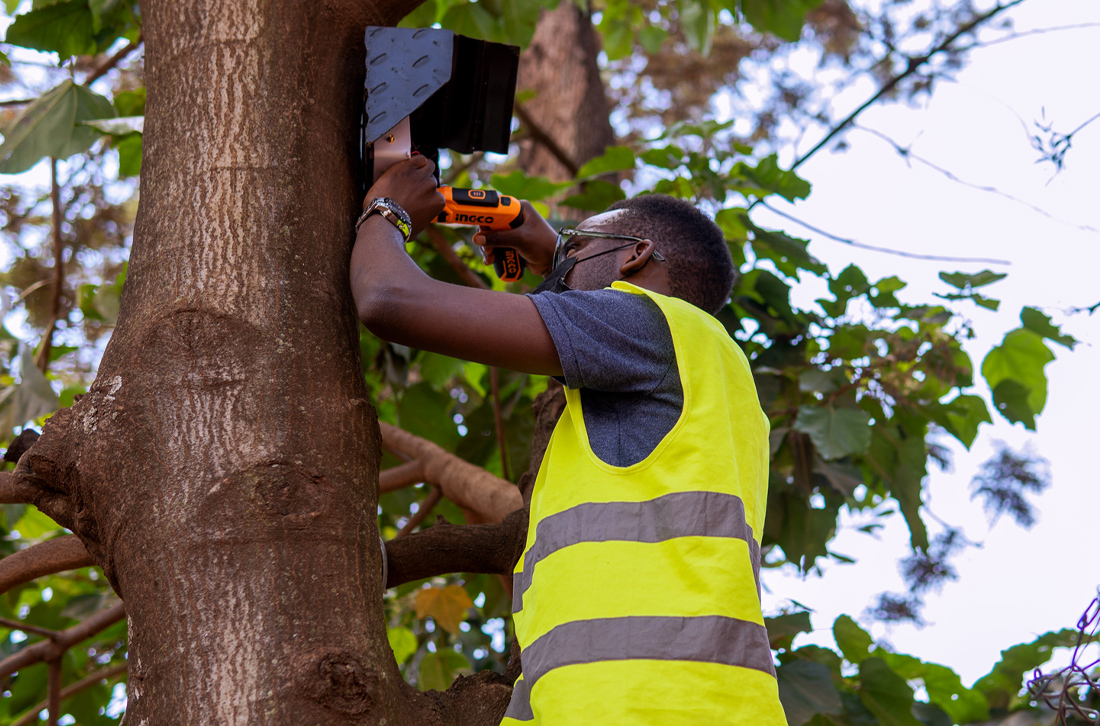 Our team of engineers built autonomous solar powered noise sensors that pick-up different types of noises. These noises are then assessed to know whether the levels exceed the statutory thresholds of decibels (dBs. We then share access to a public dashboard that continuously shows noise levels across Entebbe and empower community champions as well as technical officers on how to read and develop actionable plans.
Some key terms to note;
1. dB- A decibel is a unit used to measure sound pressure levels.
2. Exceedances- Total number of times noise levels go beyond a given threshold in a given area.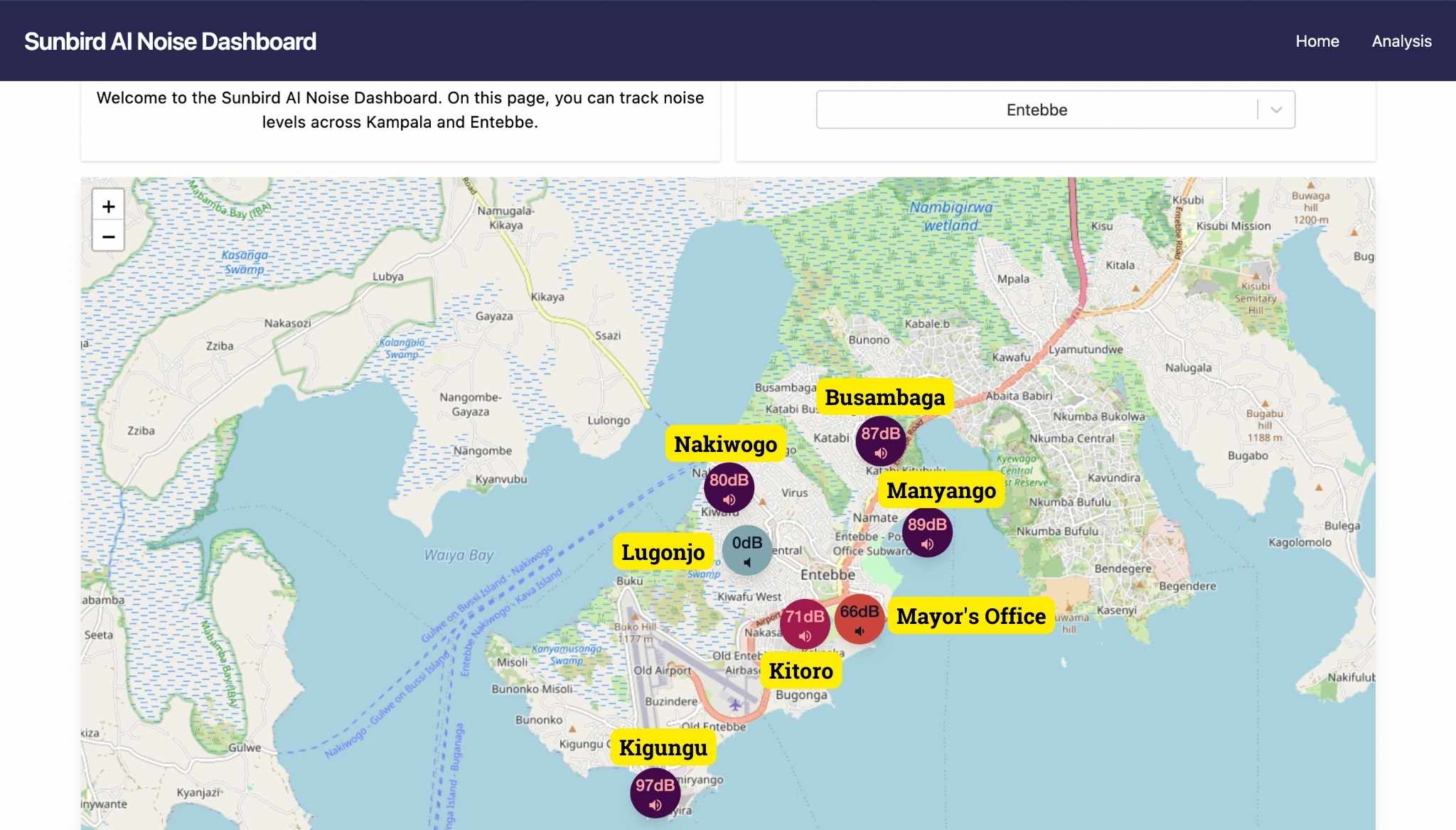 About the Hackathon.
The hackathon that ran from July 7th to 26th, was exclusively open to African countries lasted six weeks and with over 100 participants finding solutions on how to classify noise categories using machine learning. The first, second and third place solutions won $500, $300 and $200 respectively. Sunbird AI's goal is to integrate parts of the winning solution into our autonomous sensors to enable classification of noise on the edge.
It was interesting for the participants to see the realization that noise, especially in capital cities, not just in Uganda but across Africa has the potential of causing serious harm. It was good to see that participants interacted with a fairly new type of data with the winning solution managing to achieve 88% accuracy on this machine learning task.
"It is indeed a problem that needs to be addressed. Deeper and further analysis and processing should be done on the data in order to provide more insights." Dan Ofula, a Machine Learning Engineer and Data Scientist who emerged winner remarks.
The second runner up Youssef FADHLOUN an Embedded Telecommunications Engineer and Data Scientist went ahead to suggest ways the new noise datasets produced can be used, "Use the data to create a database of sound levels and locations for future reference. This can be used to inform policy makers so that they can come up with measures to reduce noise pollution."
Zindi's competition lead Amy Bray who was in charge of coordinating and monitoring the noise challenge on the Zindi platform shared, "You don't think about noise pollution in Africa. Africa has noisy cities. That's it. However this data and this challenge has shown me that it doesn't have to be like this. Why can't Africa have the same systems other countries have, even better, why can't Africa have solutions created by Africans for Africa that are tailored to her needs." Lucky for you! This data will be on the Zindi platform and other data scientists interested in this problem can look at it. This data isn't limited to noise classification and can be used to explore sound data.
We're hoping that the solutions shared will spur the conversation on how as Africans, we can continue leveraging better data technology to mitigate some of our most pressing challenges, more specifically, challenges that are detrimental to our wellbeing over the long term.