Sunbird AI and ioTec Limited to provide inclusive financial services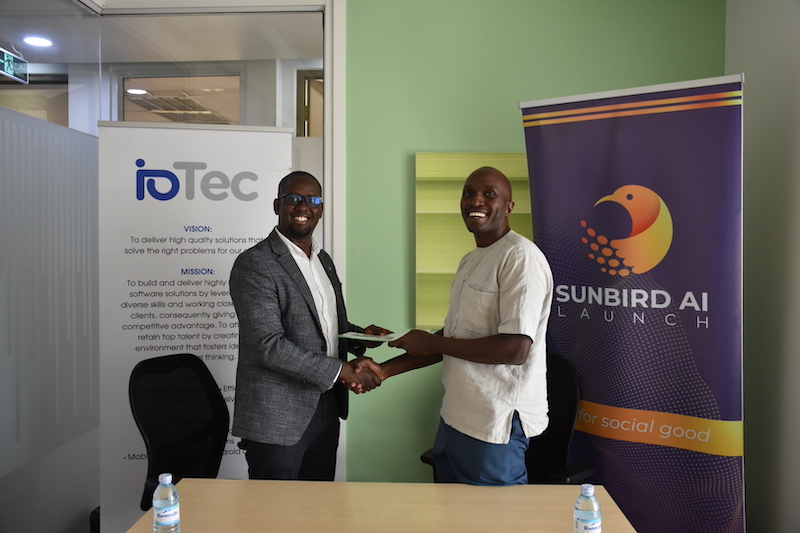 We're excited to officially embark on our partnership with ioTec Limited, a financial technology company and software consultancy firm building secure enterprise software solutions to unlock economic potential by bringing services closer to individuals and businesses through intuitive, simple, secure, and instant digital channels.
ioTec limited aims at building a customer-centric and interoperable platform to democratize access to services, strengthen service-linkages between financial service providers, manufactures and SMEs while subsidizing the high platform maintenance costs. Consequently, accelerating business growth, improving quality of life and the economy at large.
Mr. Kenneth Kwesiga, ioTec's CEO stated; "We are particularly excited about this partnership because it is strategically aligned with our objective of advancing the financial services sector through increasing access and reach of services equitably. We strongly believe that by collaborating with Sunbird AI to apply evidence-based artificial intelligence models to existing financial services data, we are able to unveil uncharted addressable markets – particularly those regarded as un-credit worthy by conventional methods that require collateral."
Dr. Ernest Mwebaze, Sunbird AI's Executive Director reflects on this partnership, "We're definitely looking forward to synergising with ioTec limited. The commendable efforts they are making in extending financial services aligns with the work we do in building practical systems to ensure there is a clear benefit to society. At Sunbird AI, we are intent on co-creating ethically sound and inclusive solutions with our partners and this collaboration with ioTec comes right on time."
Find out more about the work ioTec is doing here.
Wondering how you can collaborate with Sunbird AI? Check out opportunities for collaboration here.